SERCO DETROIT AT WORK CAREER CENTER
CAREER SERVICES
The Career Centers provide customers with access to select services based on eligibility and via referrals or enrollment in individualized programming.
Career Navigation
Job Matching and Job Placement
Job Readiness Training
Job Search Training/Assistance
Foundational Skills Training
High School Equivalency, Adult Basic Education or English Language Learner (ELL) Programs
Occupational Training
Work-Based Learning
Barrier Resolution
Assessment – general and vocational
Career Coaching (includes Barrier Resolution)
Post- Placement/Retention
Financial Capability Services
Northwest Activities Center is neighborhood based and offers community members access to after school programming, basic needs assistance, and financial services in partnership with approximately eleven community agencies. The Detroit at Work Career Center located at Northwest is run in partnership with Goodwill Industries. – Martwan Owens, Center Manager
ADDITIONAL SERVICES
Unemployment Insurance
Food Assistance Employment & Training (FAE&T)
Michigan Rehabilitation Services (MRS)
CAREER CENTER SERVICES MANAGERS:
Martwan Owens
(313) 962-9675 extension 1153
mowens@detroitatwork.com
Quentin Williams
(313) 962-9675 extension 1272
qwilliams@detroitatwork.com
For more information, please visit 18100 Meyers Rd, Detroit, MI 48235 or contact the center at (313) 962-9675.  For activities and community events visit the Northwest Activities Center online.
Spotlight: Our 2019 Success Story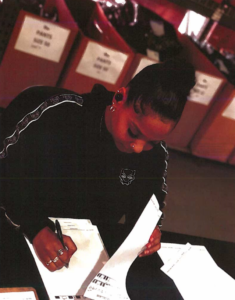 Deyja Fitzgerald, Warehouse Assistant, Vitec, Inc: Deyja Fitzgerald first came to the Detroit at Work Career Center (Northwest Activities Center) in August of 2019.  She had her High School diploma and was looking for training to create a career path to assist with becoming financially stable. Ms. Fitzgerald was place with a Career Coach, who took the time to learn what she wanted to pursue as a career. She was enrolled in training at Dymond Design, to eventually become a manicurist. She successfully completed the program and received her credential and certificate of completion. Ms. Fitzgerald used her newfound skills to become an independent manicurist but was unable to continue in her chosen profession due to the recent COVID-19 pandemic. Ms. Fitzgerald stayed in touch with her Career Coach and was eventually hired as a Warehouse Assistant with Vitec Inc, where she is still employed. Ms. Fitzgerald credits the help she received from her MWA, as the reason for her success.
Spotlight: Our 2019 Success Story 
Damon Brooks, Executive Housekeeper, Amerilodge Group: Damon Brooks came to the Detroit At Work Career Center (Northwest Activities Center) in search of training opportunities. Mr. Brooks was unemployed and wanted a career in the hotel industry.  In order to ensure all barriers were removed, Mr. Brooks was given transportation assistance to and from training and supportive services were provided in the form of bus tickets.  He successfully completed the Breithaupt Hospitality training and obtained employment at Comfort Inn during training. He continued his path in his new career and was promoted, at the Holiday Inn. Mr. Brooks is currently employed as an Executive Housekeeper at the Amerilodge Group. He states: "Though life, family and friends counted me out, Detroit at Work staff, especially Sergio, never did.  They provided affirming kindness that added as armor to my struggles that made it possible to value myself so that companies saw value in me. I was left with the know how to negotiate for myself and ended up a winner."